10th Anniversary Party
We've started a tradition of gathering some close friends and family every 5 years to reflect on our marriage, renew our vows, and be encouraged by those in our life now to keep choosing to love and honor each other.  As a bonus, we've had a number of our guests comment that the time was really encouraging for them as well – making them want to strive to build up their own relationships.
In the first five years of marriage we spent a lot of time ironing out kinks for life together – don't get me wrong, we had a lot of fun – but we also spent time focused on each other and our marriage.  At our 5th Anniversary I was barely pregnant with Whitney.  All I can say is the last five years have been vastly different than the first five!  We've weathered storms of unfamiliar diagnoses, changes in expectations, open heart surgery, messes and chaos of little kids, saying goodbye to loved ones, and a number of job changes.  We also shared so many special moments and many of them firsts: first cries, first steps, first words, first days of school.  We now have a deeper understanding of sickness and health, plenty and want.  Our last five years together has had a lot less to do with focusing on each other and our marriage and a lot more to do with hanging on to each other and braving each family adventure arm in arm.  That being said, we think that the importance of the relationship between us is paramount, and definitely merits our attention and celebration – especially at this milestone of 10 years.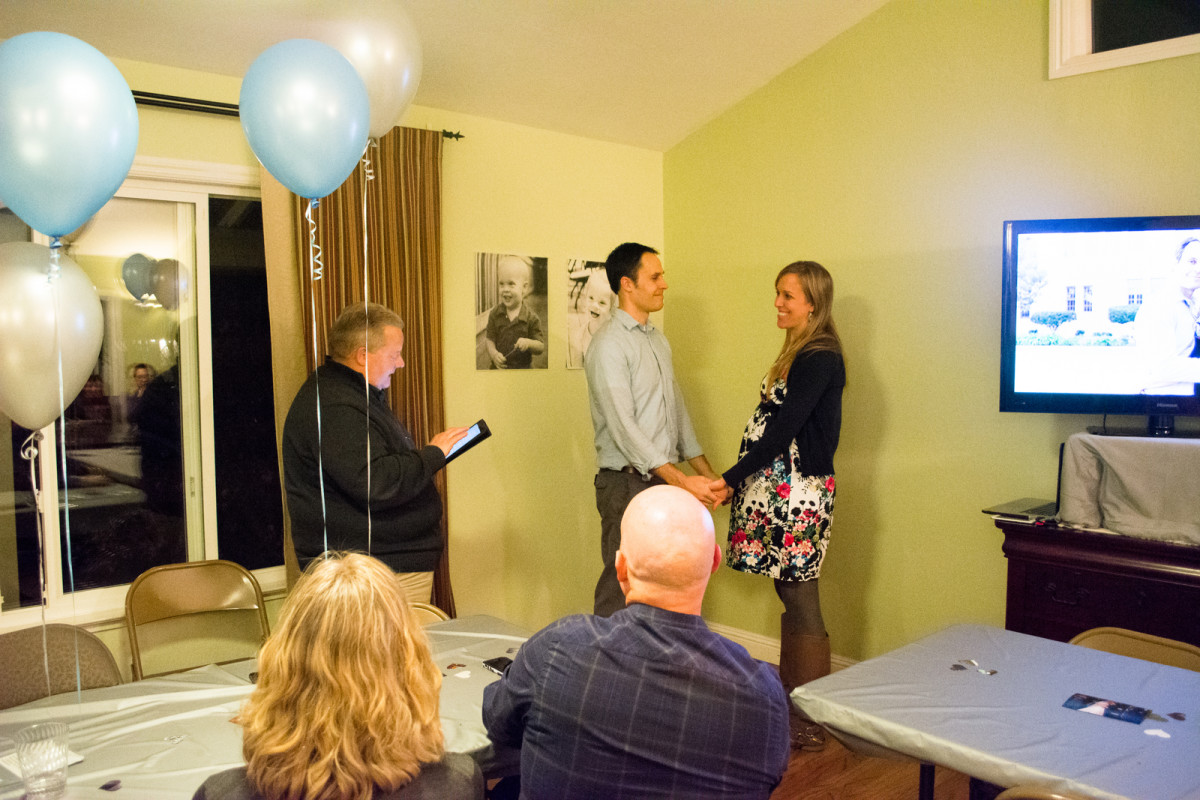 This 10th Anniversary party was pretty awesome.
Without intention we perfectly matched the theme of our little getaway (a cruise to Mexico) by hiring a taco caterer (Anytime is Taco Time) and steel drum duo (Nick Williams Music).
It was the first time ever we paid people to work an event.  No regrets….these professionals did an awesome job – made it so much nicer for our guests, and everything was so much easier for me!  This was especially valuable since the kids were home sick the entire week leading up to the event, which made errands and preparations difficult (not a whole lot you can do when you've got two kids trading off begging "hold me!").
My dear friend whom I've known almost my whole life and just recently moved down the street from me (!!) showed up in her bridesmaid dress and brought me a bouquet of roses that matched the ones she carried in the wedding!  So fun!  I couldn't believe it.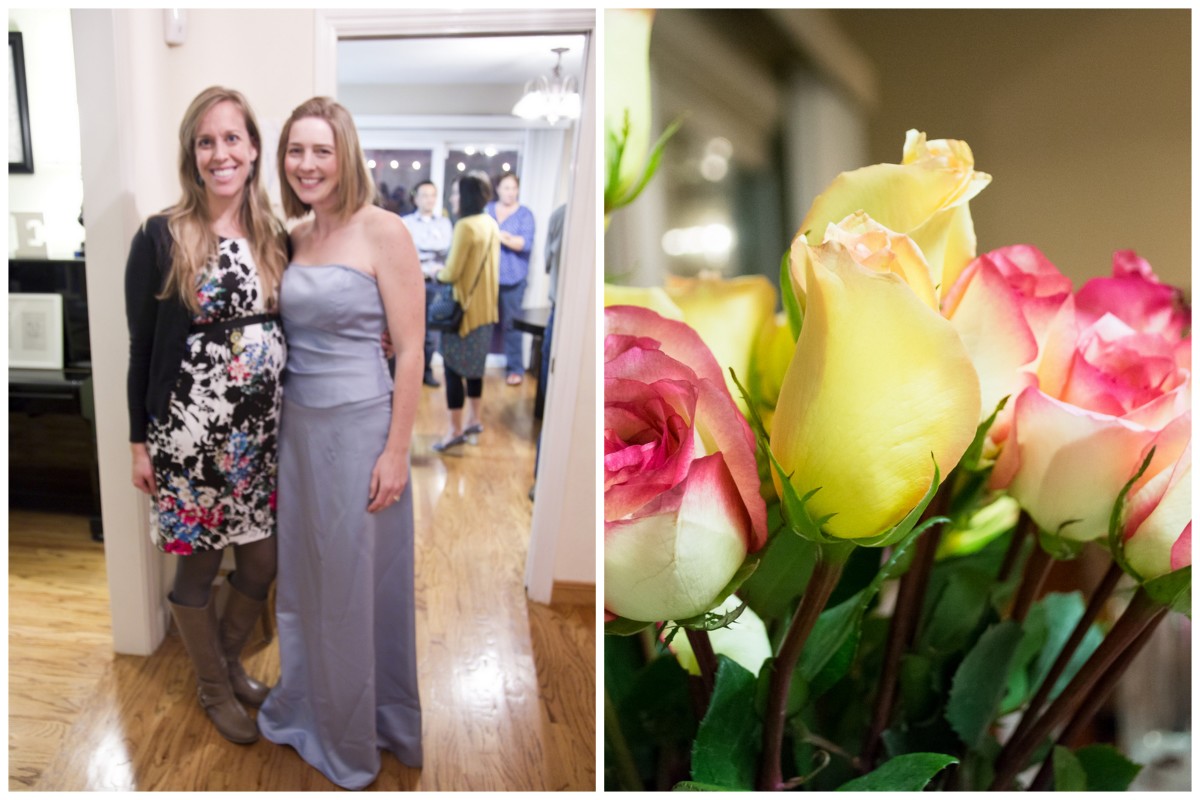 Also, I don't think I really knew anything about Pinterest five years ago…and I had fun collecting inspiration of little things I could do to make the party special.
Decor
Over the years I've collected stacks of 4×6 photos…most of the time they sit in the closet hiding in envelopes making me feel guilty for not knowing what to do with them.  I printed a dozen or so new photos, and with the ones in the closet I had plenty to make a huge collage "10" on the wall.  Tip: instead of putting tape on the back of each photo, I made longer foot-long tape rolls and put them up on the wall in the shape of the numbers and then added photos on top of the tape – waaay faster.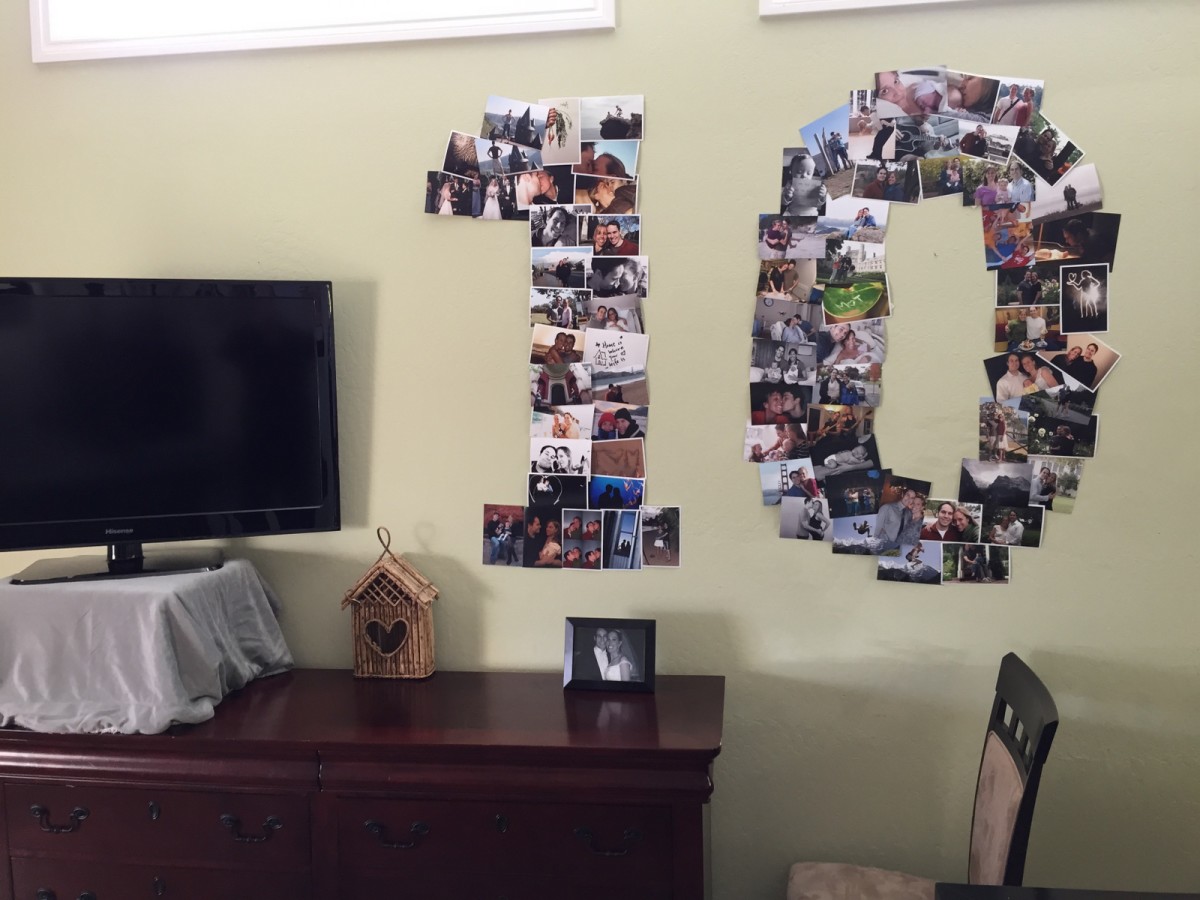 Progression Frame – five slot frame (from IKEA) with photos from wedding, 5 year, and 10 years, and place holders for "25" and "50".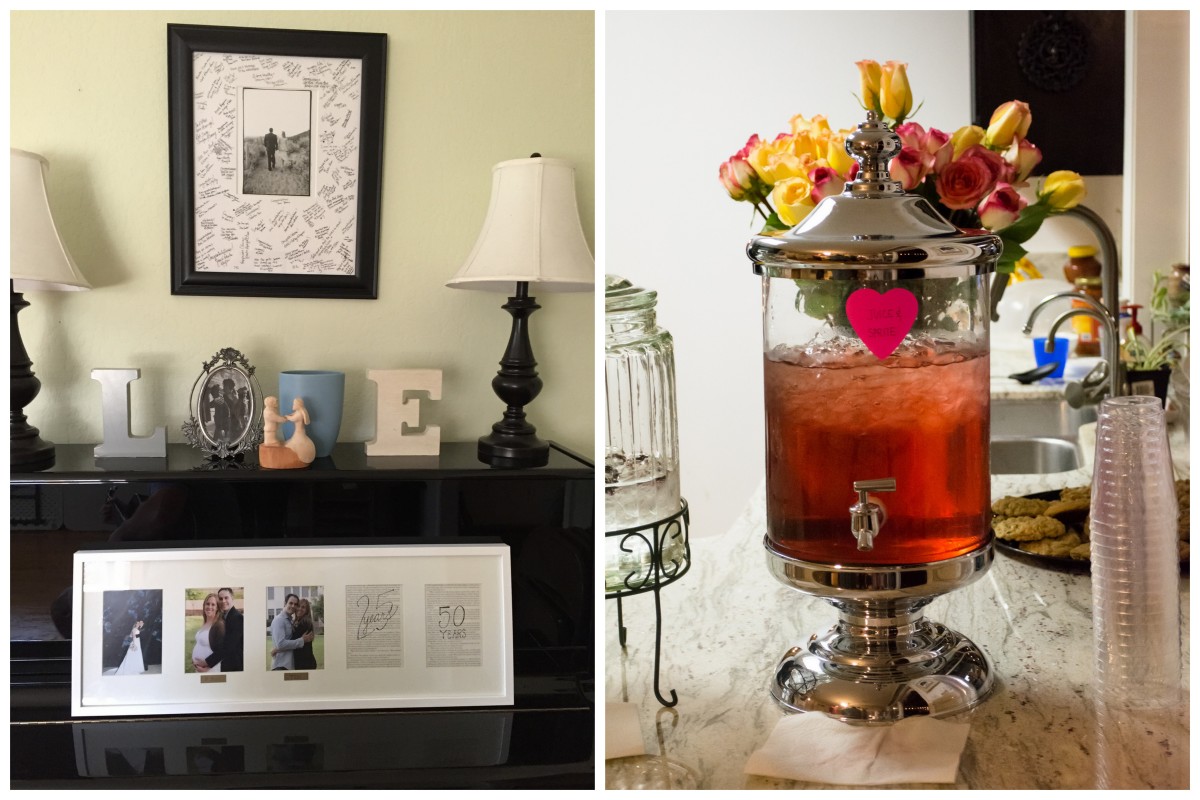 Balloons – attached to photos that were our Table names at our wedding.  The other side of the photo has a paragraph about a place special to us when we were dating.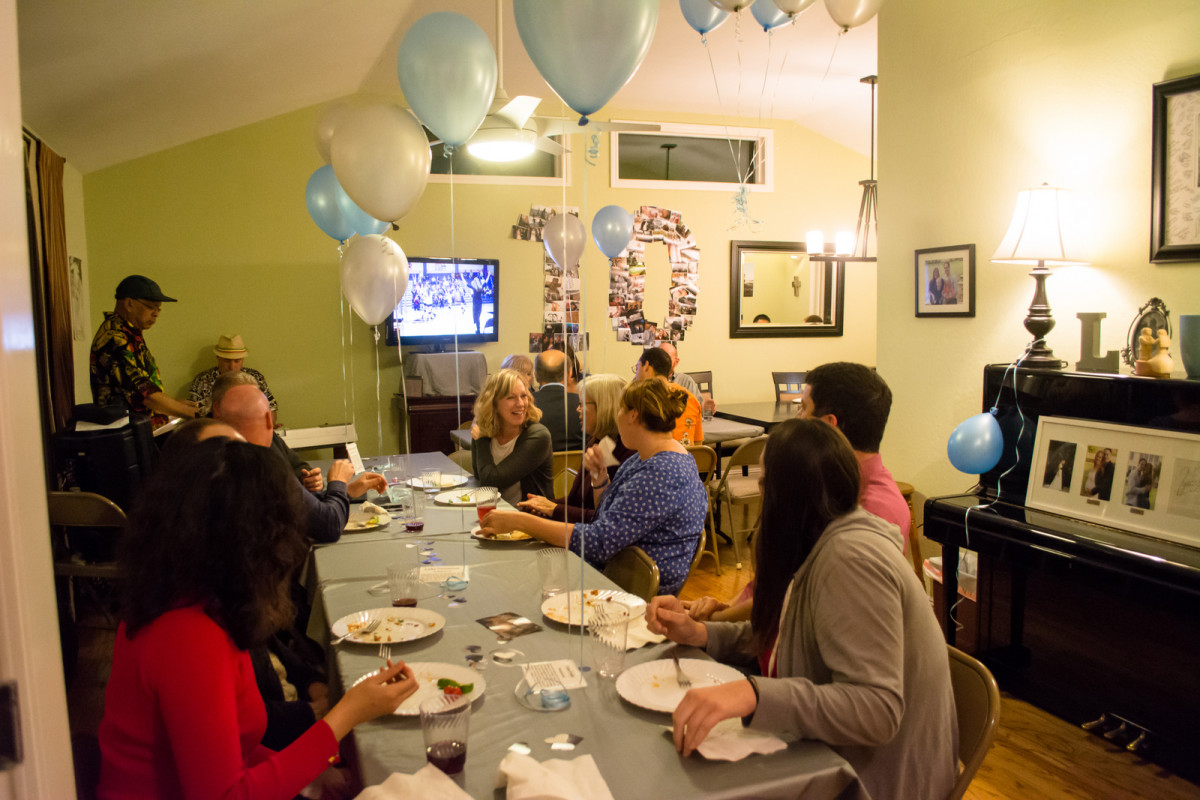 Schedule
Steel Drum music and Dinner
Welcome, thank you, and brief slideshow recapping the past 10 years
Husband and Wife each take turns saying words about and for each other
Current Pastor read a portion of our wedding ceremony and led us through our vows.
Open time for affirmation/encouragement from our guests.
Dessert
Food
Beverages – I filled up three beverage dispensers – one with ice water (and frozen fruit), and two punches (one with champagne) – everything was refilled at least once
Anytime is Taco Time caterer- (with extra tortillas, veggie trays, chips and salsa) – one of the awesome things about this caterer is that they packaged up all the leftovers for us – – no joke, we've been eating leftover tacos for a week straight!  I've even made a bunch of burritos for the freezer.
Dessert – It's Its and Tyler's homemade cookies
Favors
I scoured my hard drive for photos of our guests, selecting ones from our wedding when possible, and otherwise digging back to an older picture if possible to show the amount of time they have been special to us.  These photos were attached to a schedule and a favor and clipped to a ribbon hanging on the front door for guests to pick up when they arrived.
I love to garden…and I loved the idea of giving each set of guests two packs of seeds that are considered "companion plants" – meaning they are best grown near each other.
We had hoped to write personal notes of appreciation and thanks to include in these favors, but in the shuffle of the last minute we didn't get around to it.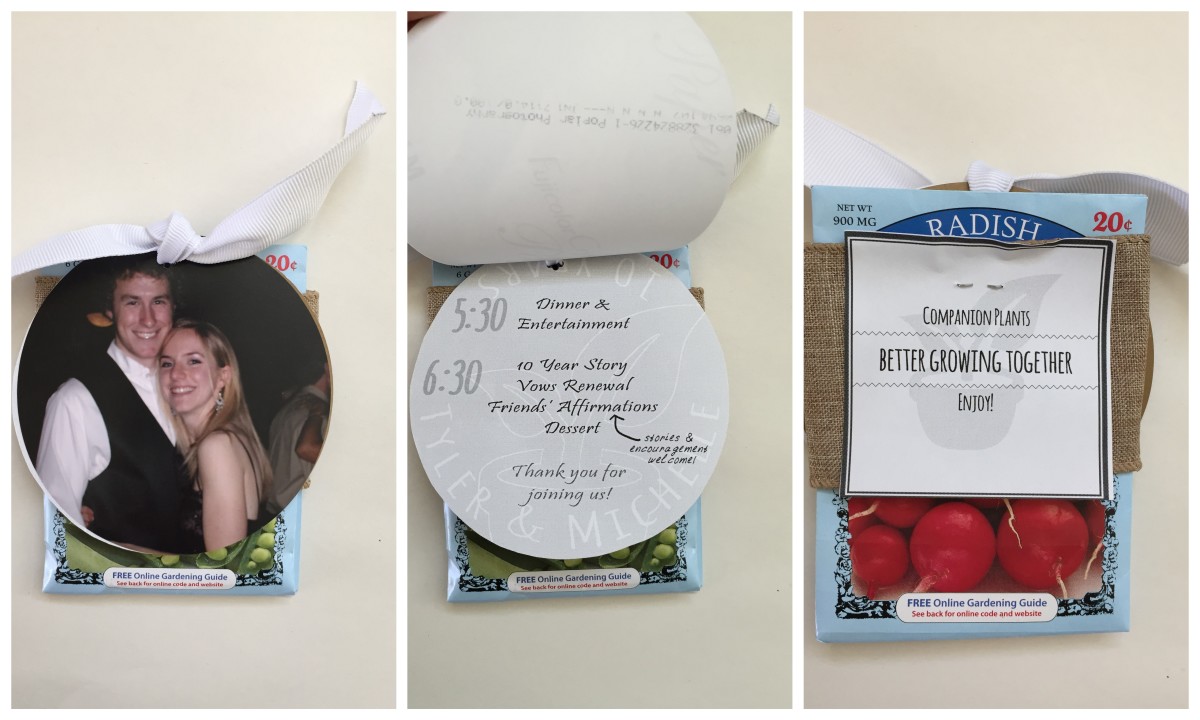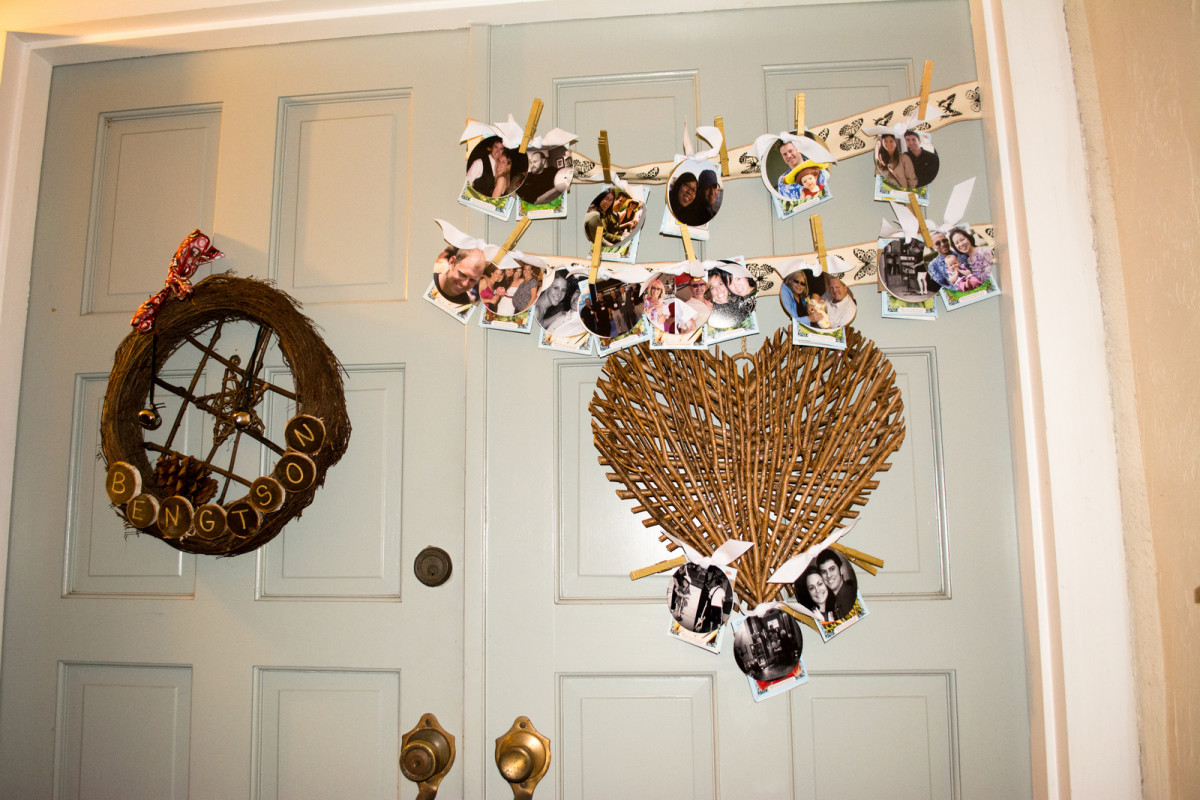 All in all, it was a wonderful party, we were so encouraged by the whole thing…and looking forward to carrying on the tradition in the future!
Thank you, Naphy Joiner (Scatter Joy Photos) for sharing your photos from our event!