Dylan's Third
This is what a ginormous 3 year old looks like: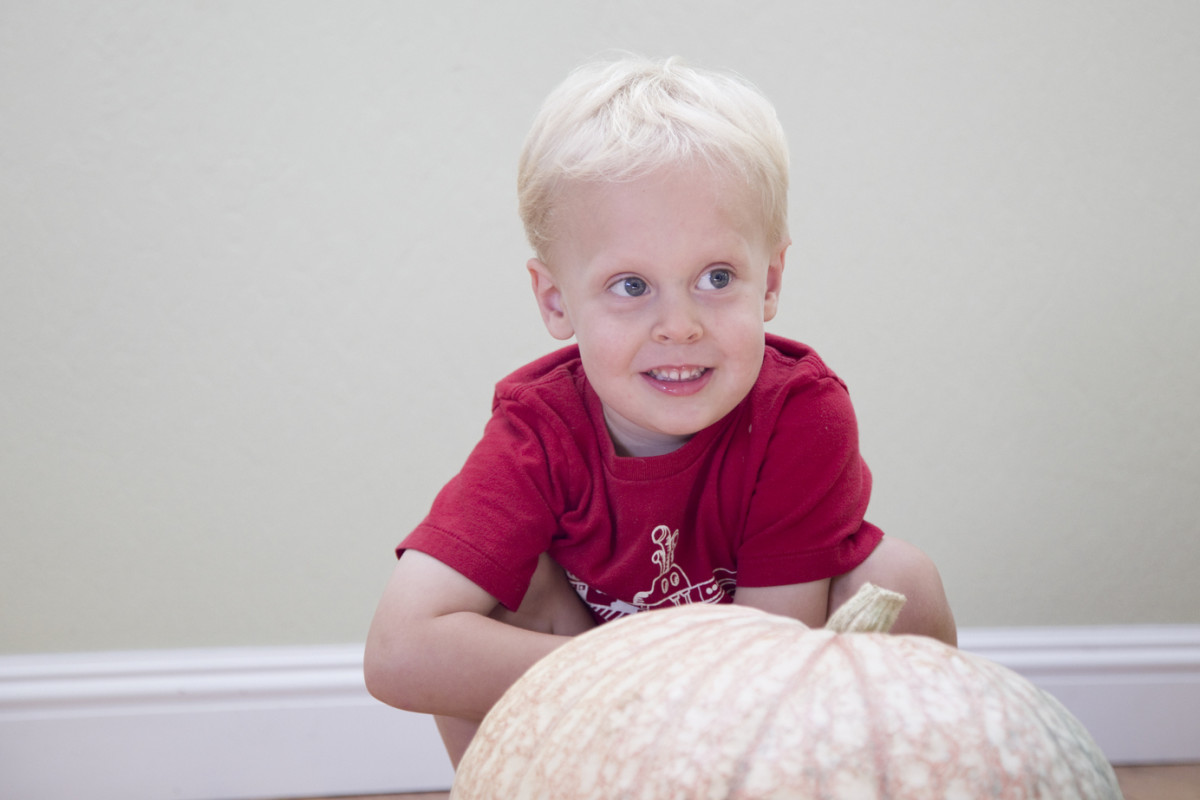 This is the first birthday I'd say he "gets it" that it's his special day.  He went to school (his 3rd day) and they sang and gave him a birthday bag to take home.  He was proud of the cookies he brought to share.  Then he went on a man-adventure with daddy that involved chasing after a runaway kite, eating lots of sugary stuff and bouncing.  We topped it all off with dinner and cake and presents with family.  We all got a kick out of him sincerely trying to blow his candles out with a spray of spittle air.
Other fun tidbits about this boy-child:
He is dramatic! – always has opinions/is stubborn, always wants something (coins, certain videos), "loves" songs and foods and declares things as "awesome."
He is obsessed with coins and other "treasure" – jingles when he walks because there's "pennies" in his pockets.
Changes clothes multiple times a day, can't stand being wet.
Loves everything active – swimming, baseball, chase, making messes, dancing
He's a cooking helper – can probably make smoothies by himself, can assemble his own sandwich
Little Engineer – loves to build blocks, Legos, using tools, puzzles
He's got some serious verbal abilities and auditory memory – can memorize poems, says the pledge of allegiance, repeats things I say, counts in German.
Plays pretend with "guys" (little figurines)
He recently drew his first recognizable "people" picture.
Knows his letters and numbers, colors (primary colors song!), days of the week, birthday
Asked me to please marry him.
Got brave all of a sudden – no longer scared of the roller coaster or the bathroom hand drier.
Thinks his fire truck pj's made him grow bigger.
Very touchy, always climbing on my lap or all over me like a monkey, likes his cuddles, and is a very sweet kisser.
Wants to know stranger's names, quick to tell people "you can come, too."
Loves being read to (Berenstain Bears, Clifford, Little Critters, Winnie the Pooh)
Clears plate to sink, sometimes picks up toys, sometimes helps set the table.
Takes bites out of fruit from the fruit basket, helps himself to garden harvests and will eat everything (including raw lima beans just out of their shell).
He loves his sister like crazy.
Happy Birthday, little dude.  You sure bring a lot of excitement to our lives!