Phone Strips
For some reason I've been neglecting the big camera lately.
Nevertheless, I've taken a bunch of shots with my phone…so here are some of the latest phone strips…
A Dylan-Mommy Date to Starbucks.  I've enjoyed this sweet time just him and I when Whitney is at school.  I marvel that he can't stop talking about her…
Whitney likes bus. Whitney's asleep. Whitney wants pino jelly. (peanut butter and jelly)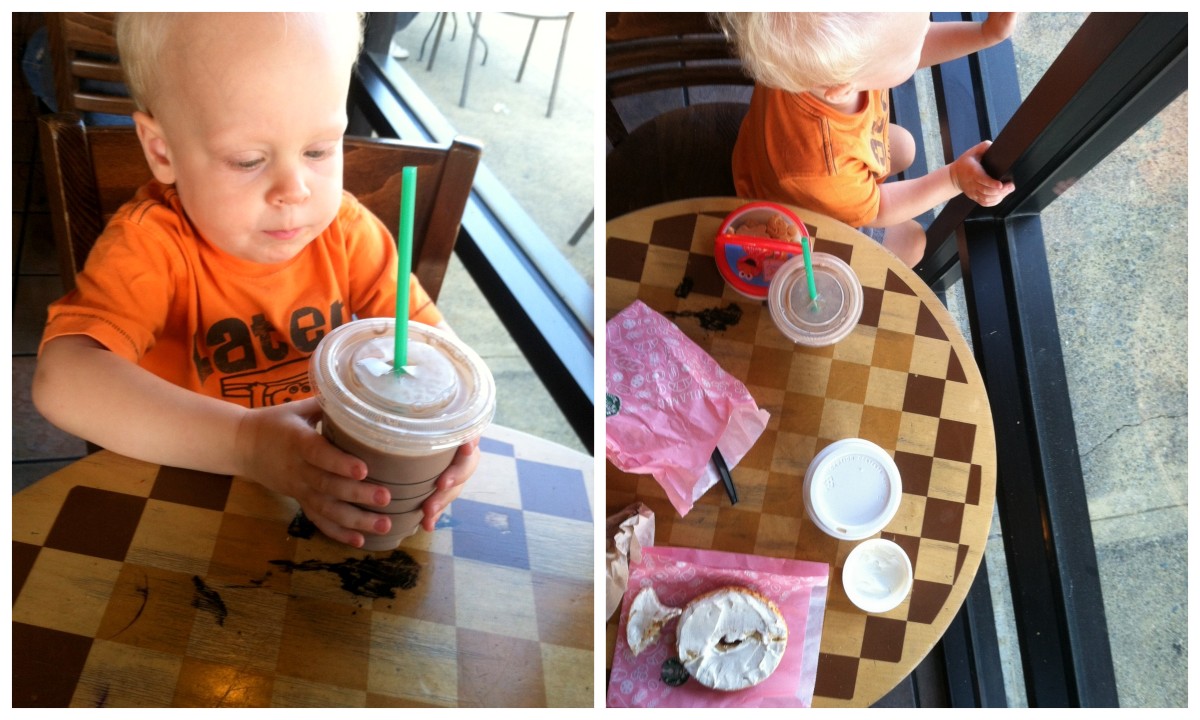 We get daily requests for "Happy Faces", a game in which Tyler draws faces on the whiteboard and they guess the feeling, or they make requests for faces…usually about 30 seconds in Dylan starts requesting "grandma" and then "another grandma" until finally he wants to erase it all and we move on. Whitney's a fan of this game, too.
Also, we went to "Moveable Feast" last Monday, which is a collection of food trucks that take over a parking lot.  Fun idea.  I'm sorry to say that the food was kind of expensive and wasn't as generously portioned or as gourmet as I hoped.  Maybe it's because I didn't stand in the really long line?

We fixed our broken grill, and made Kebabs!  The kids sure enjoy their corn on the cob!

Whirlwind road trip to (Great) Grandma's house in SoCal. Thank God for Gramby, who voluntarily sat between them for more than half the ride.  Great Grandma got to help with baths, and I enjoyed a nostalgic round of [getting whooped at] Rap Rummy.  The kids were obsessed with all of the animal statues and toys, and I was relieved that they didn't join me in admiring Grandma's Tea Cup collection.

After driving hours and hours we ran around the bleachers while Aunty Jessie rocked her Alumni volleyball game.  Dylan especially liked to "hide" behind the chairs and burst into laughter every time I "found" him.

We met Patty and Bruce on the drive home.  They helped us get a snazzy kitchen on Craigslist for Whitney's birthday.  The kids were thoroughly entertained, as usual with them. 🙂  
Daddy set up a Hammock on the deck.  We've been walking in a newly acquired red wagon.  Does anyone else save Huggies points?  What a waste!  I've been collecting but I'm not sure why…millions of diapers and I'm pretty sure my points add up to maybe $5 worth of a prize.  Annoying.
On another note, I can't get enough of the kids folding their hands when we pray.  I keep peeking to see…it melts my heart that they know this routine.
Some of our recent harvest: chard, chives, lettuce, tomato, cucumber, hot peppers.