The Problem With Getting Out
In general, we don't get out much. I am not the mom who takes her kids to the park or on walks every day.  I'd like to be, but most environments are just not fun for very long with my two littles.  I've been feeling like we've been growing out of some of the chaos and that the kids are starting to follow directions a little better, so we've ventured out a bit more than usual recently.  And no, we're not out of the chaos stage yet.
Scene: Dinner at a friends' house.
They're local, it was casual, they have a 15 month old… this should have totally been doable.  Tyler stayed home playing Santa (last year he started the tradition of building them a toy at Christmas).  He helped me load up the kids and my tray of veggies for a nice visit with this family and some of their friends who I've never met.  Excited for some grown up conversation and looking forward to kids laughing and playing together I set out.  When we arrived I let Dylan out of the car and pointed to the front door and he ran up to knock (one of his favorite things to do, he did it without distraction – – good job buddy, good moment).  It was downhill from there.  My gracious friend assured me the home was kid-proof and the kids would be fine, let me sit down and what would I like to drink?  Friends. I popped up and down out of my chair maybe a hundred times over the next hour and a half, barely a part of the adult scene at all, and all the while being embarrassed by my inability to contain my kids.  It pretty much went like this:
Dylan: I want berries!!  Berries!! Berries!!! I WANT BERRIES!!! (Mind you, dinner hadn't even officially started.)  At least it was soon followed by a very pleasant "Excuse me mommy, more berries please."
Wup! [grabbing hand away from bowl] Buddy, we don't put the carrot back into the dip after it's been in our mouth…you eat it and then grab another carrot to dip.  One dip per carrot.
Whitney, honey, let's close those drawers, we don't touch clean silverware.  No, no, close the dishwasher.
— so, you were on the Olympic team in Athens? Wow, what an experience that must have been—-"
[sound of door closing] Whitney?  Oh baby, this isn't a room to play in….no, this bed isn't for climbing [mini fit with stomping and pointing toward the master bed].
Kids, let's stay in the play room, how about some books, here's a few toys, how about if we stay on this rug where mommy can see you?
— look how happy and smiley your baby is! She just loves sitting with you and is so calm!
Stop!  Whitney, let's set this down, the CD player is not a toy…[attached to the wall and playing music]
Oh, Dylan! You just knocked the teepee down! [failed attempt to get it standing upright without a major lean]
Oh, Buddy, we don't throw toys.  No more [toy], it's taking a break [shrieks of protest]
— oh your homemade fudge is so delicious, and where is this pomegranate tart from?
[silence] Whitney?  Let go! Don't touch that [toilet seat]! Yucky! Dirty!  Do you have to go potty?
No! Dylan! we don't reach into the fish tank – oh no! The plant fell in! Dylan!  Dylan are you stinky? Let's take care of that [majorly offensive smell, shrieks of protest with kicking]
Ah ah ah! Couches are for sitting! [not jumping]
— so do you have any travels planned during the holidays?
Hey, Baby was playing with that toy, let her have it back, you can't just take toys from people.
–well, I'd better get these kids home.  Thanks so much for having us over! And it was nice to meet you…"
And to top it all off there was the moment where my friend is following me to the car with my dish.  On the front porch I slipped on my shoes and put Dylan's on (note: it's like the airplane oxygen bags, always ALWAYS secure your own first), I reach inside the door to pick up Whitney and Dylan bolts from my side running a gleeful straight-shot into the dark street.  No cars, thank God.  My ungraceful sprint (holding Whitney, mind you) catches up with him in the exact center of the street when I can reach out and barely grab his shoulder to stop him. He's thrilled. To say that I'm not is an understatement. And I will spare you the thoughts going through my head.  I carry one in each arm back like a supermom feeling instead like a complete embarrassment.
Luckily my friend is understanding and I don't think I phased her too much.  But I'm pretty sure that the only thing her friends gathered about me was that I'm that mom who can't control her kids.  I just come over to turn the tasmanians loose and scarf down some food.  Well. In this type of situation, it didn't work. I couldn't control my kids.  At least not while trying to give any attention to anything besides them.  I don't think it is bad parenting as much as a bad choice to put myself in a situation with too many variables.  If it were at my house it would have been different.  I know where the danger spots are, they don't feel like they have to explore.  I have the tools for entertaining and distracting them set up, I have a place for time-out.  Not having these things?  That is the problem with getting out.  The options are: chase after kids on damage control OR enjoy adult company.  But it's pretty much a rare occasion to have both.
And while we're at it with the underwhelming updates…
The kids are still in pull-ups, they've learned a lot since Diaper Detox, but I just can't bring myself to risk cleaning out poopy underwear so we've gone mercantile and are buying solid deposits and cooperation with m&m's and lollipops.
And as for Advent, we did pretty well the first week, but this last week we've done hardly anything (according to plan, that is).  Part of the reason is I have my list all to myself – I didn't make boxes or anything to ceremonially open each day.  So the kids and the husband aren't really anticipating, and it's up to me to do the things I planned to do or not.  I actually am OK with this, though.  The ideas are what make me most happy, more than the execution…I have years to fit it all in.  I've been able to forgo activities when we were already maxed out, and enjoy keeping up those things we've already done but can keep doing to continue anticipating Christmas – like reading Christmas books and singing and listening to Christmas music.
On a more positively entertaining note…here's some pics I finally got around to processing from the past few weeks.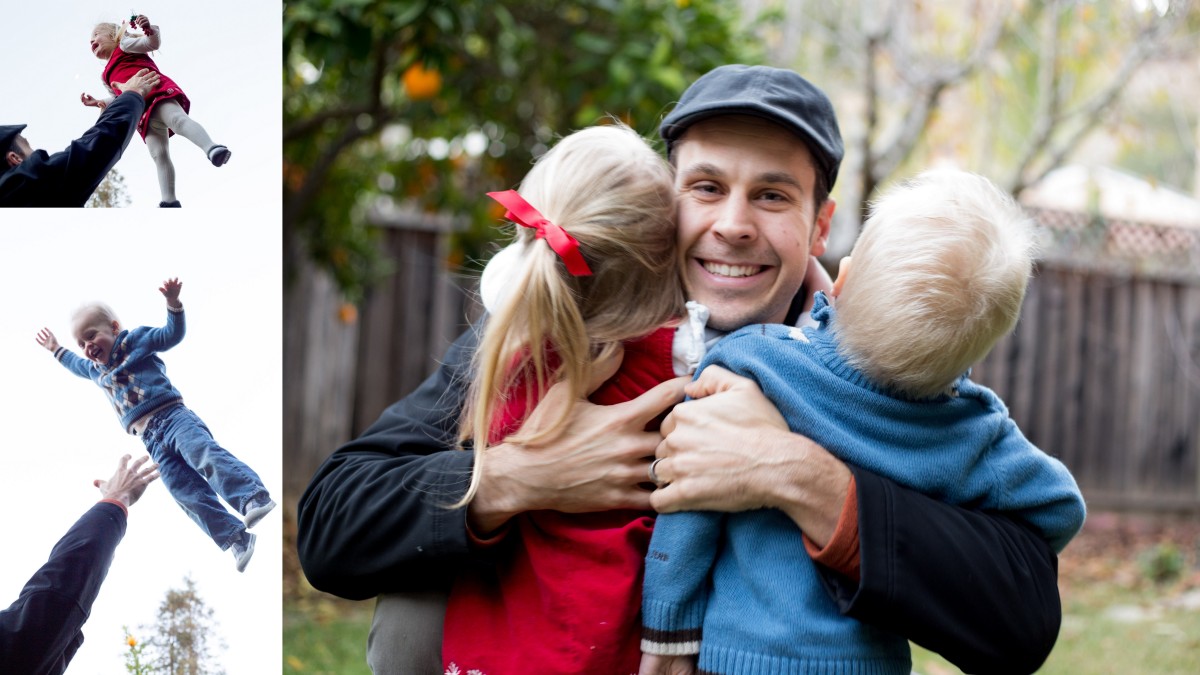 Check out this nap-head.  No joke. I just about died when I saw her shuffle down the stairs.
Our "Strawberry Trees" are dropping millions of these berries.  Fun! Except they are kind of flavorless.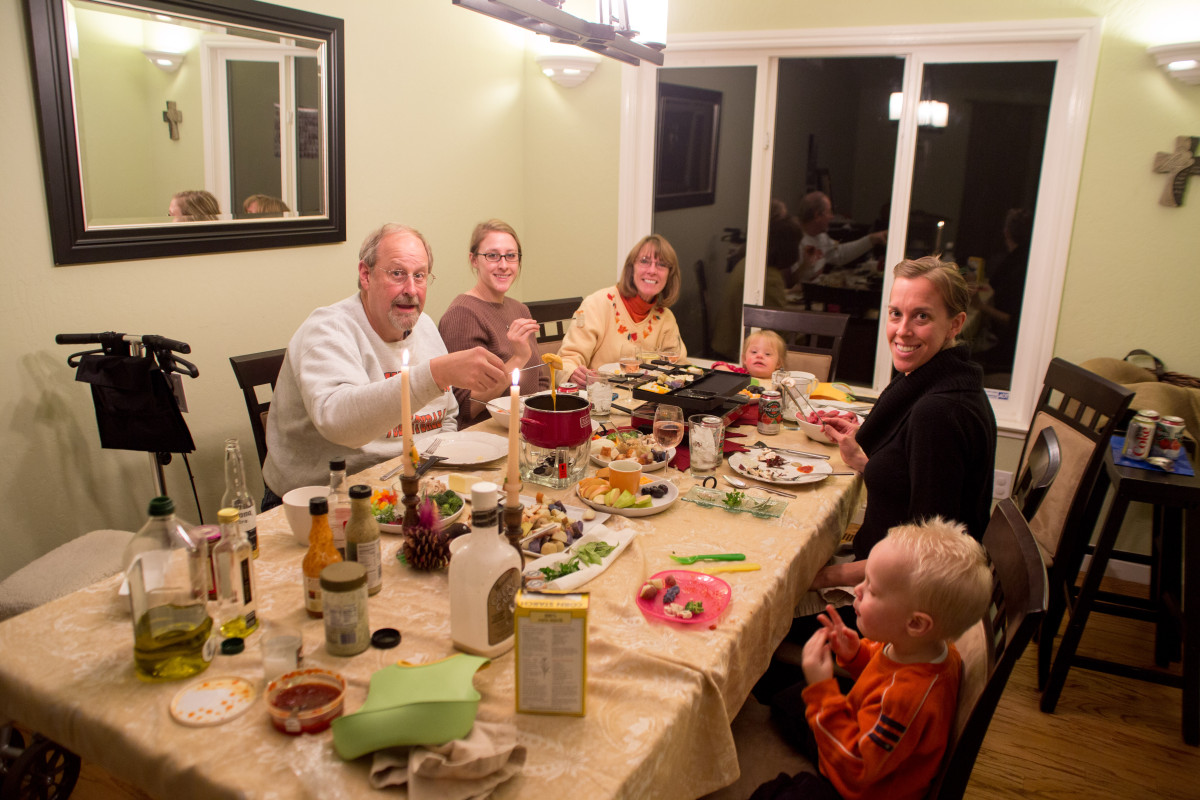 Raclette and fondue for dinner Thanksgiving Day (because Turkey with the whole family was on Sunday).
Daddy's cinnamon rolls on Thanksgiving — definitely a tradition we all enjoy!

Helping Gramby and Grandpa get their Christmas Tree.
He's definitely bigger.
I was proud of my homegrown herbs/etc we used as options for Raclette combinations: chard, basil, thyme, parsley, chives, rosemary, sage, oregano, lemon.