The Going Gets Tough(er): Whitney's still running
Whitney has been keeping us on our toes lately with new and improved escape techniques.  This past week, it culminated with her first police encounter from the scariest breakaway disappearance yet.  She has upped her game and can now climb over our side gate while covering her tracks behind her (looks like the doors are all locked behind her), and she is able to sneak away in less than five minutes when we are distracted (i.e. a diaper change).  Guys.  The struggle is real.  This is pretty frustrating, and pretty alarming/scary.
I appreciated all the concern and solidarity and ideas following my first post about running.  In a lot of ways the problem quickly took the back burner…we were more diligent about our home lock down, the keys were hidden in a place the kids can't reach, and we got an ID bracelet just in case.  We survived a trip to Disneyland with our phone numbers Sharpied on her arm (but we never lost her).  She still would try to wander away from us at school pickup and church and random times out in the world, but we are used to holding her hand and catching her really quickly.
Then comes July, when all of a sudden she got out of our yard four days in a row – rescued by the same neighbor who happened to see her each time.  It happened on Tyler, myself and my mom each at least once, in a matter of a few minutes, and almost every time she was pushing her doll stroller, taking her baby for a walk.  It seemed somewhat innocent on her part.  What I realized that time is that she was able to climb up onto the bottom cross beam of our side gate, shimmy over and reach up to the latch to open it and get out.  I even had some boards piled up in front of one of the gates and she was able to lift them away.  So we've secured the gates.  Problem solved for a little longer.
We realized she hit a new level when I found her straddling the top of our fence gate last Thursday.  I coaxed her down, tried to convey the danger of the situation for whatever would happen to her as she went down the other side, but my worries never seem to sink in with her.  She is fearless.  She is determined.  She shimmies up the diagonal beam on the gate and then hikes her way over.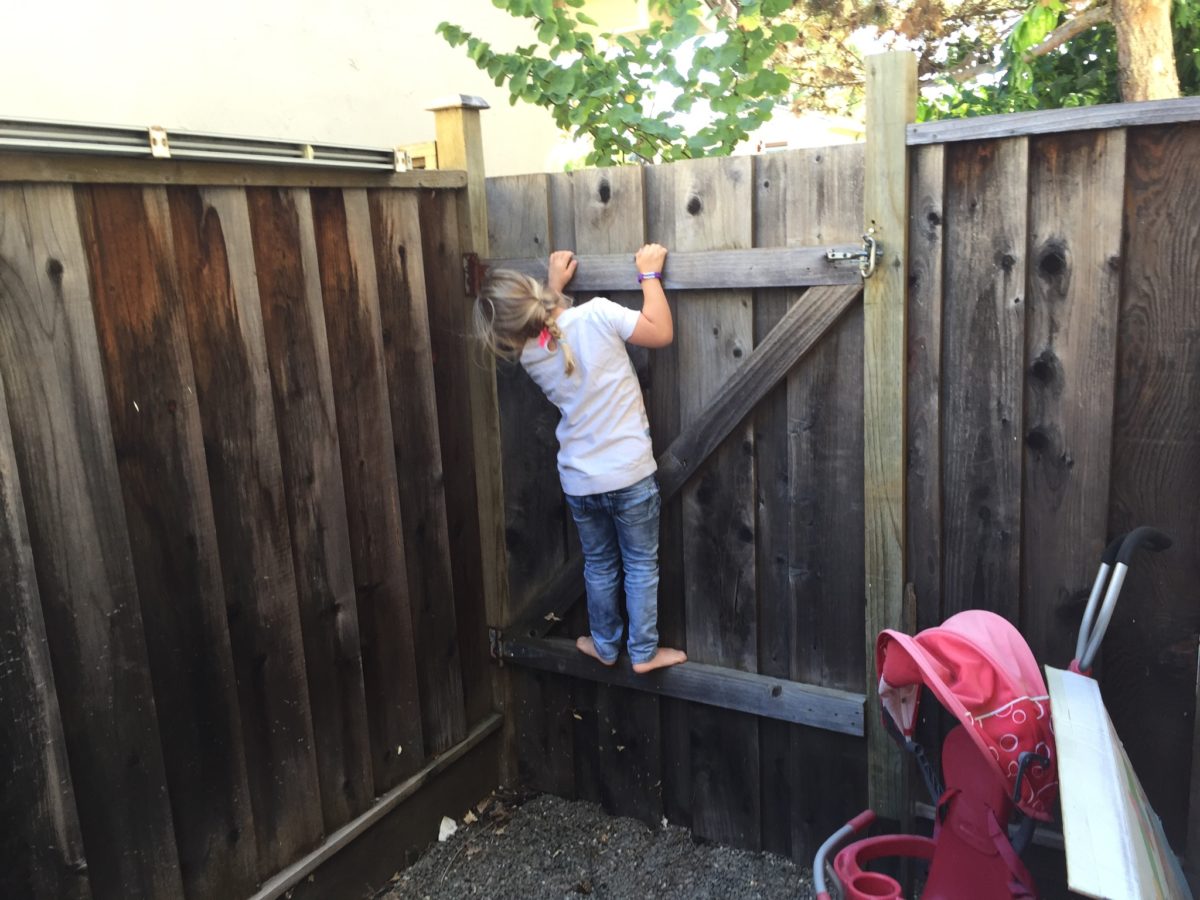 Monday we were all together as a family, I was folding laundry, Tyler was playing games with the kids on the floor…we both notice her heading upstairs.  After a few minutes I go up to check on her and she's nowhere to be found.  I call down to Tyler and he starts checking the downstairs, and reports that all the doors are locked so she must be in here somewhere.  She's not responding and our closet checks come up empty.  We check outside, Tyler jumps in the car to make a run around the block….5, 10 minutes go by, nothing….I'm still re-checking the house thinking maybe I missed something.  Tyler comes home, we notice the back slider is locked but not closed all the way (she leaves and locks it behind her but it's not actually closed – very sneaky).  Gates are in-tact, so it seems she really did make it over the fence without injury. Tyler goes out in the car again, and I enlist some friends to help us search the neighborhood.  An unbearably long time goes by…I'm helplessly at home still hoping to find her under the bed or stuck behind the couch or something, trying to keep the baby and Dylan from freaking out.  Tyler calls again, no sign of her…he's circling back toward home again and sees four cop cars at the end of our street.  I'm not sure whether or not I'm relieved or freaked out.  He keeps me on the phone and reports "they have her." Apparently, she (barefoot of course) scaled the fence with only a minor scratch on her chest, and picked a stranger-neighbor's house to visit, found the door unlocked and let herself in.  The lady of the house found Whitney inside and since Whitney wasn't able to clearly explain anything, she called the police.  The police asked her where she lived and she took them to the house next door to that (all within vision of our house), but still not a neighbor that she knows.  Thank God that she picked a friendly house that helped her.  She was wearing her ID bracelet but it was covered up by long sleeves so no one saw it.  She was not in the least bit afraid or remorseful, which is really frustrating.  I tried to explain to her that I was afraid and worried because I didn't know where she was and was calling her name and she was lost…she looked at me as if to say "aww, mom was sad" and that was it.
We so far have a temporary fix nailed to the back of the fence to deter climbing, but she has already made numerous more attempts that we have caught, and even started tearing down the cardboard.  It's baffling – what is driving her to be so determined to escape without us?
I'm pouring over behavior books, racking my brain for solutions…I don't have any yet, so as much as it'd be nice to share this with the "here's how we solved this problem" I'd like to report, we're wrestling through a new season of this problem…and it appears to be getting evermore sophisticated.
If you're in our community and are wondering how you can help…I can say I've had some times when people have helped me distract Whitney when she has it in her mind to run, a friend coming up and asking her a question, pointing out something cool she can go do and inviting her along, just breaking the moment where I'm struggling to hold onto this 50 pound girl who is trying her best to be slippery and difficult.  Often I'm having to leave the baby behind to catch Whitney, so helping keep an eye on the baby or helping catch the girl is also great (and I'm grateful to those of you who have taken on a full sprint for us in the past).
And just to end on a more positive note…here's the Houdini in a sweet sisterly moment helping Leslie with a puzzle.