Lately…
Dylan in Sprouts: "That's my favorite, that's my favorite!!" (to the cereal shelf we have never purchased from).  Then 3 minutes later it was "Hooray for cranberries!"    And 3 hours later, he's obsessed with reading the Storybook Bible.  "Mommy!  Let's read about the sneaky snake!" (garden of Eden).  He's also a big fan of "the man who can walk" – Jesus healing the man who was paralyzed.  What is lacking in my own personal devotion is being made up threefold with the picture book Bible!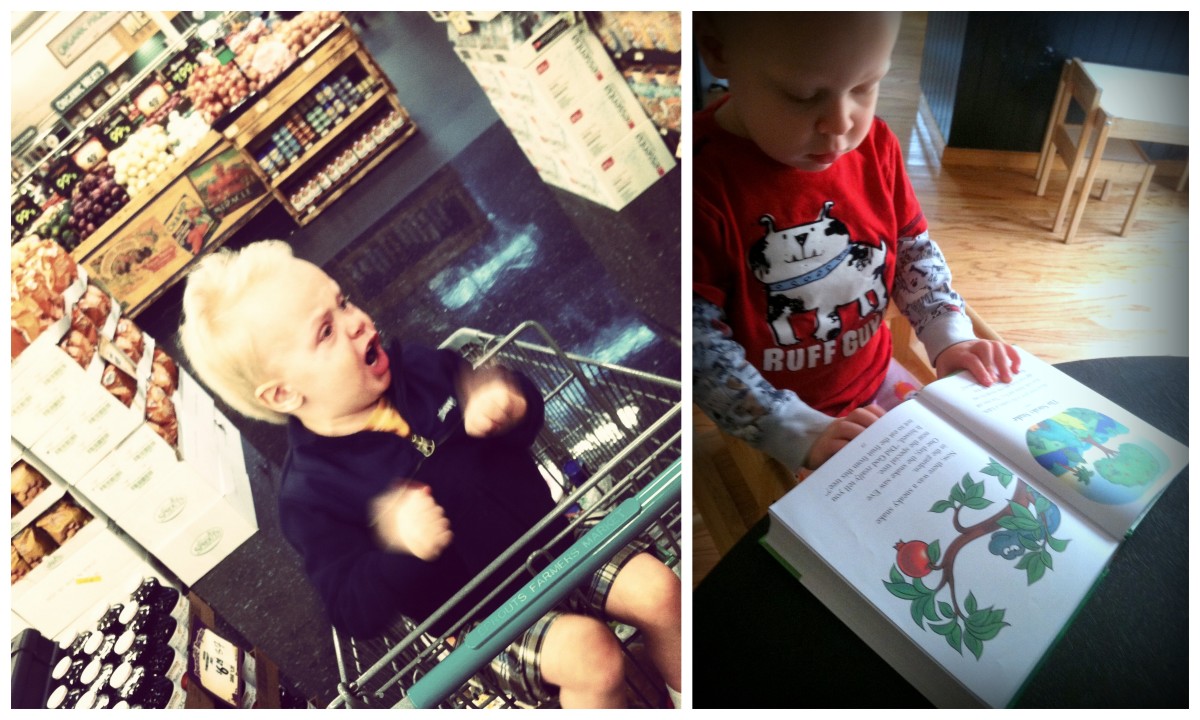 Other toddler contradictions on a daily basis:
Getting a lollipop prize: "hmm… maybe blue one, I don't like that one (pointing to root beer flavor), umm…" (scanning choices for way to long). Me: "Do you want strawberry?"  Dylan: "no"  Me: "Ok, mango then" (handing mango over).  Dylan: "NO!  I want strawberry! I want Strawberry!"  Can't. make. up. his. mind.
Likewise, at breakfast…Dylan: "I want cereal and milk" (pour in cereal).  "Milk, Mommy, milk!"  (begin pouring in milk).  "NO!  I don't want milk, I don't want milk!!" (bursts into tears).  Sheesh!
I will say I am excited about both kid's eagerness to help.  Whitney continues to enjoy taking a rag and wiping down the tables, and she is glued to me during laundry.  Dylan has been helping me set the table for meals.  I can tell him to go get 2 big spoons and 2 little ones and he will, and he'll bring food that I'm preparing to the table (without taking a bite on the way!).  He'll sometimes get the milks out of the fridge and napkins out of the drawer and put them on the table without my asking.  And he is always eager to run upstairs and tell daddy it's "food time!"
Fun in the backyard…he and Whitney both run around saying "Ready, Set, GO!"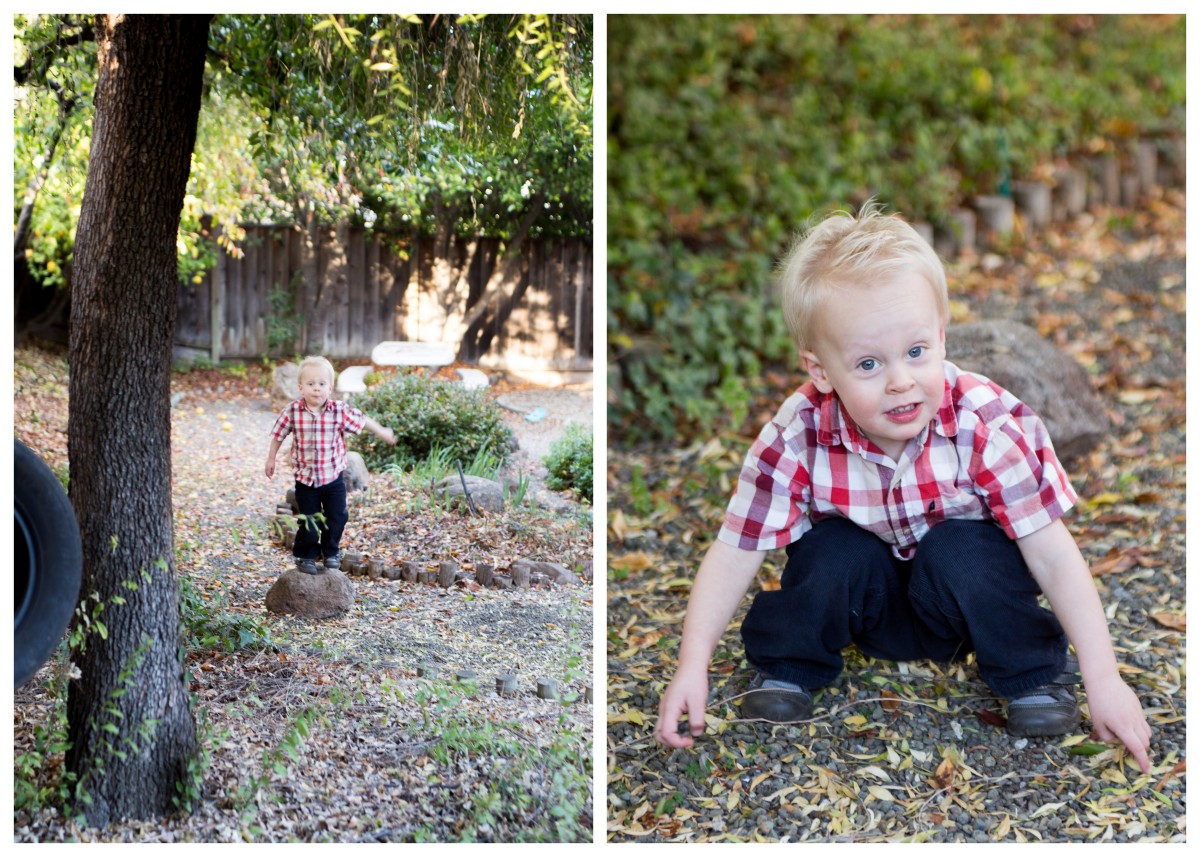 She loves this spot hiding behind the trees and up against the fence.  They both are excited about our oranges that are in full harvest.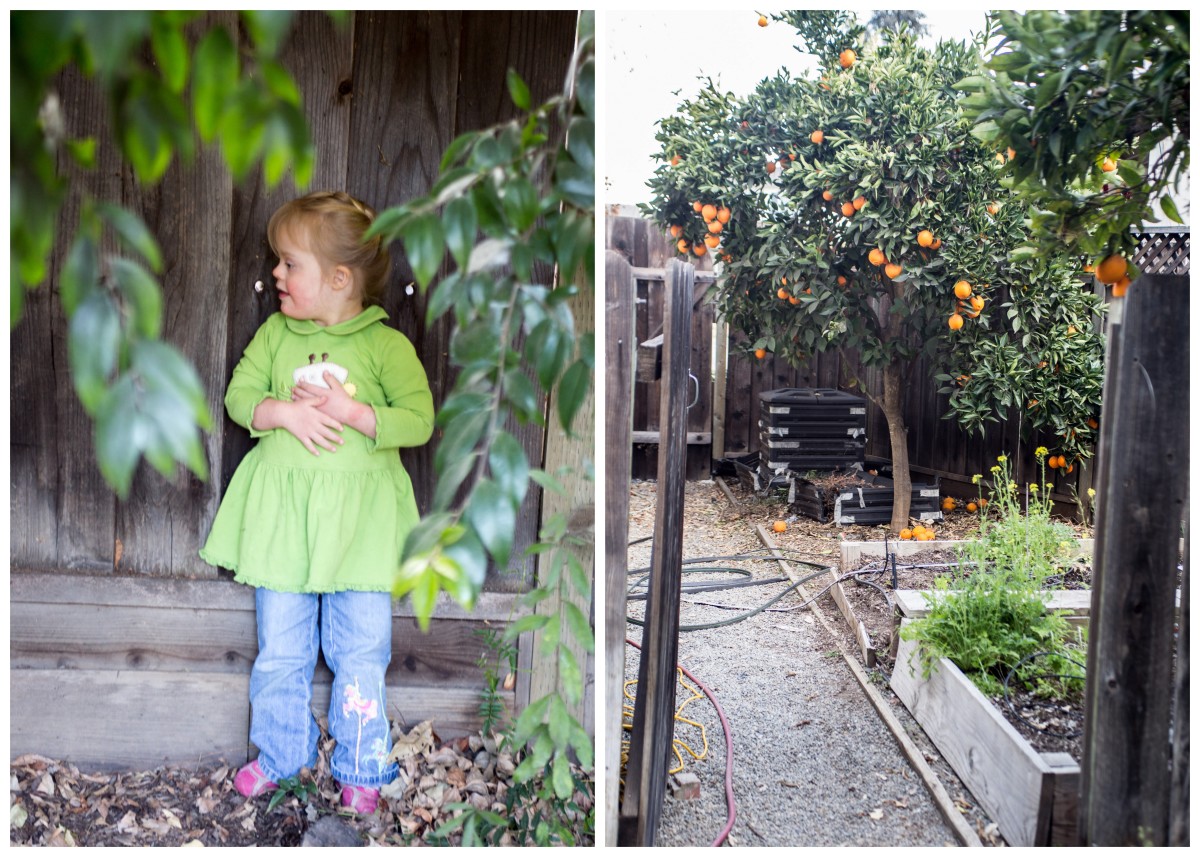 We had some fun family/cousins time last weekend for my niece's birthday.  Dylan couldn't get enough of his second-cousin, who was a big boy.  He climbed up after him in the hammock and wanted to copy everything he was doing.  It was fun for me to see since I used to hang out with his dad and aunt at family gatherings growing up.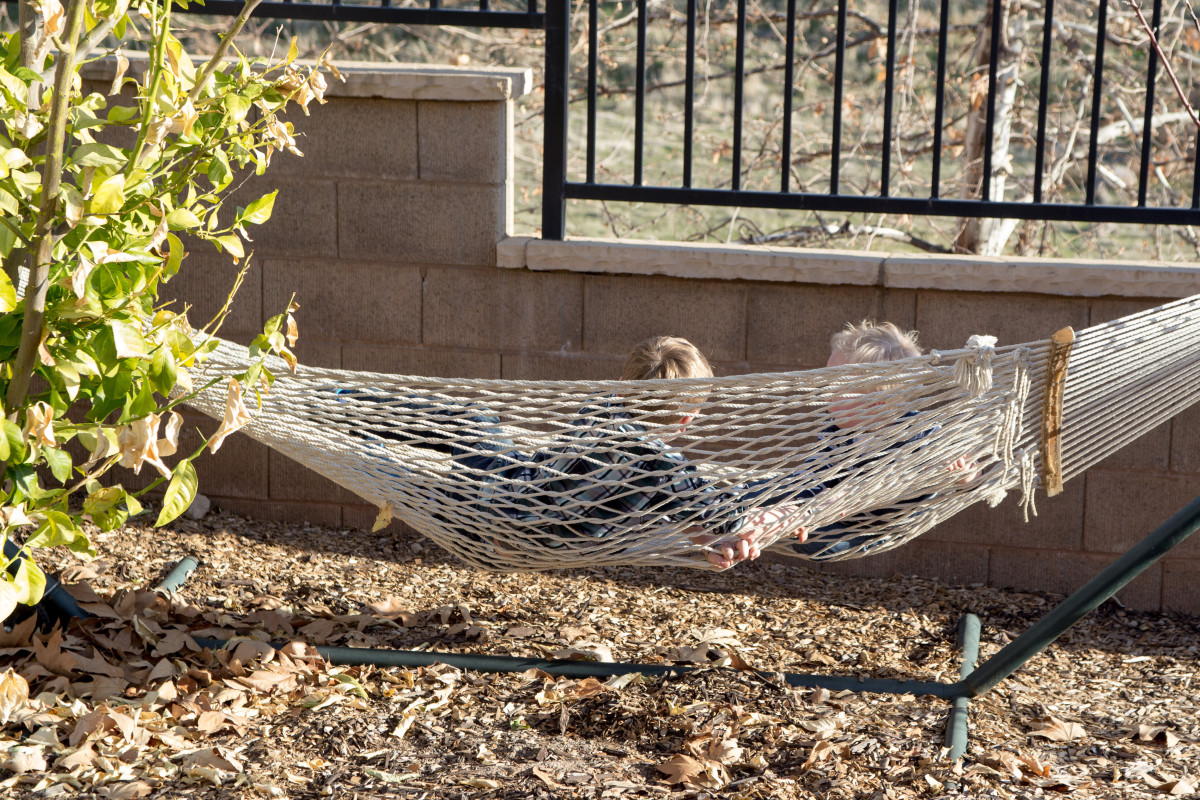 First cousins on the bench, second-cousin above.
Whitney's taken to putting her stuffed animals to bed.  I love her budding little maternal side.